Mivi DuoPods 2021: Series of the Best Truly Wireless Stereo Earphones
Mivi DuoPods are rocking the market by offering an immersive music listening experience to the users. More than a decade ago, wireless Bluetooth earphones arrived in the market. Since then, rapidly evolving technology has offered a wide variety of earphones.
Including Bluetooth earphones, real wireless stereos earphones have become much popular. Mivi DuoPods has marked its feat in the constantly booming market of India.
Being the latest brand in the market, Mivi offers a great variety of wireless earphones and earbuds. Mivi DuoPods M20, Mivi DuoPods M40, and Mivi DuoPods M80 are the latest range of truly wireless earphones from Mivi. Other than that, Thunder Beats and Collar are what Mivi has gained fame.
Well, the best is yet to be. Before introducing you to the newly rocking Mivi DuoPods series, let us take a quick tour of Mivi Brand and its brand ambassador. After that, the buyer's guide will help you know more about the earbuds, including their warranty periods, cons, etc.
Continue reading to know more about Mivi DuoPods…!
Mivi – Quality Now Has a New Name
Mivi is one of the electronic brands in India. I am feeling proud to announce that it is a Make in India product. It takes a lot of effort and hard work to make your brand a sensation, and yes, a couple in Vijaywada has reached the goal. The name Mivi comes from the combination of initials of the couple's name, Midhula, and Viswanath. Mivi launched around 4-5 years ago, became a top-selling brand in 2019. The homegrown brand has had reported an amplified sales of its audio equipment, mainly Bluetooth earphones.
Mivi has gained massive success with Bluetooth 5.0 earphones, Thunder Beats and Collar. Now, the electronic brand born and raised in India has launched another new series of earbuds. Mivi DuoPods M20, Mivi DuoPods M40, and Mivi DuoPods M80 are the new trio.
Apart from the products mentioned above, Mivi offers a range of chargers, cables, OTG adapters, custom-made designer cases, screen guards, and Bluetooth speakers.
The Indian electronics brand offers a range of products considering specific circumstances in our country, like electricity, fluctuations in voltage, etc. Notably, products from Mivi have a BIS certification. It means the products have a third-party guarantee for reliability, quality, and safety. Mivi also offers a one-year manufacturer warranty on its products.
Mivi DuoPods is a perfect choice if you are seeking for TWS (truly wireless stereo) earphones up to Rs. 1000.
Why should you buy Mivi Duopods?
Here are some reasons to buy Mivi Duopods. The following are some of the reasons that point towards Mivi as the best brand in India:
Make In India.

Earphones have immersive sound technology.

You can enjoy the experience of having Truly Wireless Stereo earphones at a pocket-friendly price.

Excellent customer support, starting from product catalog to shipping and delivery.

Warranty from the maker of Mivi DuoPods.
All in all, Mivi is a top Indian brand which you will not like to miss to buy.
Mivi's Brand Ambassador:
Bhuvan Bam, a famous personality on YouTube, is the brand ambassador of Mivi. With a dream to pioneer the Indian market, Mivi announced Bhuvan as its brand Ambassador. Some dreams often become a reality, and they come true!
Through this tie-up with Bhuvan, Mivi succeeded in attracting a vast user base in India. The merger indirectly helped Mivi to achieve a significant position in India and to gain young hearts.
Launch of Mivi DuoPods M80: A game-changer
Recently, Mivi has published a handle on Instagram. It is a game being promoted for Mivi DuoPods M80. Launching an amazing game on Insta is a great idea. The game has gained a huge success overnight, and so the Mivi DuoPods M80. As per reports, over 3 lakh people have played the game in very little time.
Also, the exciting game has got hundreds of shares from the users. The game also highlights features of Mivi DuoPods M80. In the end, the publicity stunt has worked well for the homegrown electronic brand, Mivi.
Mivi DuoPods Specifications:
Products matter in their quality, specifications, and other things. The case is the same when it comes to Mivi DuoPods. The wireless Bluetooth earbuds offer excellent sound quality, with a prolonged battery life of around 30 hours.
Mivi Duopods seem the right choice when it comes to design and comfort. Having a touch control is a plus. Voice assistant support assists you whenever essential. On top, Mivi DuoPods comes with a one-year manufacturer warranty.
Mivi DuoPods, a complete package of HD premium sound quality with great comfort.
The Trio of Mivi DuoPods
Following are the three Mivi DuoPods, which we have bought exclusively for you:
6.1. Mivi Duopods M40 True Wireless Bluetooth :
6.1.1. Product Highlights:
TWS Bluetooth earphones, powerful bass, touch control.
6.1.2. Pick a color of your choice from – Black, Carmine, and Blue.
6.1.3. Product Description: Mivi DuoPods M40 includes Bluetooth 5.0 technology to offer the best connection. The product is easy to use; pair once, and you are ready to go. You can play music for up to six hours on a single charge. Overall, the case offers 24 hours long battery backup.
The earbuds are wire-free, so no issues of tangles or a wire-cut. The earbuds are designed in such a way that it offers a comfortable fit. Touch control makes it easy to manage calls and play/pause music. You can now control music without any cables.
6.1.4. Some Points to Consider for Mivi DuoPods M40:
The only sound, no strings.

A perfect partner for workout and the gym

M40 offers a studio-quality sound

Longggg battery backup

Google Assistant: Enabled

One year manufacturer warranty
6.2. Mivi Duopods M80 True Wireless Bluetooth:
6.2.1. Product Highlights:
Wireless earbuds with Qualcomm Aptx, powerful bass, TWS earbuds with touch control.
6.2.2. Pick a color of your choice from – White, Black, and Blue.
6.2.3. Product Description: Mivi DuoPods M80 comes with an in-built mic to offer you noise-less calls. The mic has a powerful and advanced MEMS microphone for a crystal clear calling experience. The extra bass feature gives a punchy feel to the music lover inside you.
M80 is lightweight and specially engineered to stay plugged in when doing some activity, like a workout. Mivi DuoPods M80 comes with a one-year manufacturer warranty.
6.2.4. Some Points to Consider for Mivi DuoPods M80:
In-line high-quality mic.

A dream earphone for gamers.

Google Assistant: Enabled

Lightweight

Sturdy design with a premium finish.
6.3. Mivi Duopods M20 True Wireless Bluetooth :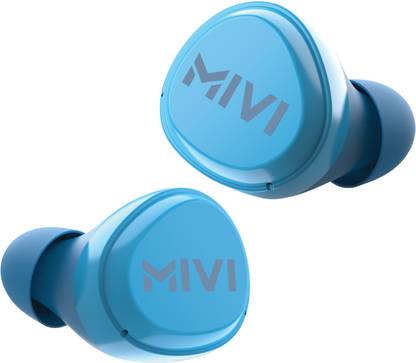 6.3.1. Product Highlights:
Truly wireless earphones, HD sound, pair and play
6.3.2. Pick a color of your choice from – Blue, White, Red, and Black.
6.3.4. Product Description: Mivi DuoPods M20 is IPX5 rated, making them resistant to water splash, dust, and sweat. The earbuds are convenient and easy to pair. It offers a battery backup of around 5-6 hours. Even more, the charging case offers you back up of about 24 hours in a single charge. You can pick/reject a call or play/pause music in a single touch.
6.3.4. Some Points to Consider for Mivi DuoPods M20:
Fits best into your ears.

Small and lightweight.

IPX5 rated.

Single touch call management and playback.

Capsule-shape case makes it convenient to carry.
Feel the bass with Mivi DuoPods; click here (Amazon.in) and buy one for you.
Reviews of Mivi DuoPods:
Besides introducing you to the best range of Mivi earbud, we have many reviews for you. This section will help you choose the best Mivi earbud. I am sure you will not be disappointed after buying DuoPods. You can click here to buy Mivi true wireless DuoPods that best fits your choice.
7.1. Mivi DuoPods M40 Review:

A pocket-friendly option
The Mivi DuoPods comes with a set of exciting features. M40 has a unique, small, and compact capsule-shaped charging case. You can easily carry it with you throughout the day. Inside the box, the earbuds have space enough to rest during the charging process. Well, you will have to scratch your head while taking out the earbuds from the charging case.
Watch Mivi DuoPods M40 Review Video
Mivi DuoPods M40 earbuds are too small in size. LED lights inside the earbuds glow black and blue. They even glow while the pairing process. The multipurpose button on the earbuds assists the user in navigating music and managing calls. Mivi DuoPods M40 offers great quality audio, and the battery lasts for around four hours on a single charge. The earbuds take only 60 mins for a full charge.
7.2. Should you buy Mivi DuoPods M40?
M40 is the best for music lovers or people who love to dive into music all day. You can listen to music and attend calls as well.
7.2.

Mivi DuoPods M80 Review:

A product worth of price less than Rs. 3000.

7.2.1. Some specifications of Mivi DuoPods M80 are as follows:
Touch control makes them convenient to use

Bluetooth 5.0 technology

Noise cancellation- enabled

30 hours long battery life

IPX4 make Mivi DuoPods M80 resistant to sweat
Other than the factors mentioned above, Mivi DuoPods M80 has a touch and attractive design. Specially engineered earbuds make it best fit into the ears. The earbud case is sleek enough to carry the pocket. 5 LED lights on the case reveal the battery level.
Being sweat-proof, you can use Mivi DuoPods M80 at the gym or while doing other physical activities. Wearing the TWS earphones for a long time will never make you feel down or inconvenient.
Watch Mivi DuoPods M80 Review Video
Sound quality is a crucial aspect of an earphone. Mivi DuoPods M80 is best when it comes to premium quality sound and Rich Bass. Well, M80 might disappoint you if classical music is your cup of tea. You can enjoy hip hop, jazz, rock music with this earphone, as it has good bass.
No product has all the qualities you want. The case is the same with Mivi DuoPods. Touch controls of the earphone are very sensitive. Sometimes, the ear pods suddenly stop playing music. It may be because of the sensitive touch panel.
Another notable aspect is, the volume button is missing in Mivi DuoPods M80. It is not the right choice if you wish to buy M80 for attending phone calls.
7.2.2. Should you consider buying Mivi DuoPods M80?
It is a good option for people who love to play smartphone games like Pubg. Even more, you can enjoy songs having high bass. The Mivi DuoPods has an ergonomic design that fits best in the ears. Excluding touch sensitivity and call management, M80 is all you want for an HD rich bass sound quality.
7.3.
Mivi DuoPods M20 Review:

The Mini Mivi DuoPods

Mivi DuoPods M20 is a simple, sweet, and small pair of earphones that fit perfectly. Some of the cool features of M20 are 5.0 Bluetooth connectivity, long-lasting battery up to 6 hours, premium-quality sound, etc. Being a TWS earphone M20 seems to be a budget-friendly one. Mivi DuoPods is IPX5 certified, i.e., splash resistant. Single touch plug and play is a plus.
Watch Mivi DuoPods M80 Review Video
7.3.1. Are you thinking of buying Mivi DuoPods M20?
All in all, M20 is a good quality earphone, including durability and sound quality. You can use it for up to 16 hours in a single charge of the case.
7.3.2. Confused between Mivi DuoPods M20 or M40?
Well, both earbuds are quite similar to each other in functioning. Note that, M20 seems more pocket friendly than the other one. Design is another aspect to see. M40 DuoPods have a curved design, whereas M20 seems more like a rounded triangle. Apart from this, M20 comes with a matte finish, and the M40 comes with a glossy finish.
Click here to gift yourself with Mivi DuoPods, specially designed for a music lover inside YOU
Conclusion:
This article focuses on Mivi Duopods, offers top-notch information on the homemade brand. The material also includes top and trending products from Mivi, like DuoPods M40, DuoPods M80, and DuoPods M20. Along with that, the article covers a review of Mivi DuoPods models mentioned above. A buyer's guide included will assist you in selecting the best Mivi DuoPods.
I hope the article offers all the essential information regarding Mivi DuoPods, the most trending earphones in India.
Why wait? Grab the best deals on Mivi DuoPods here!
Also, check out
1.Best Boult Bluetooth Earphones under 1500 Rs